Terrible fire in the largest antique shop in the city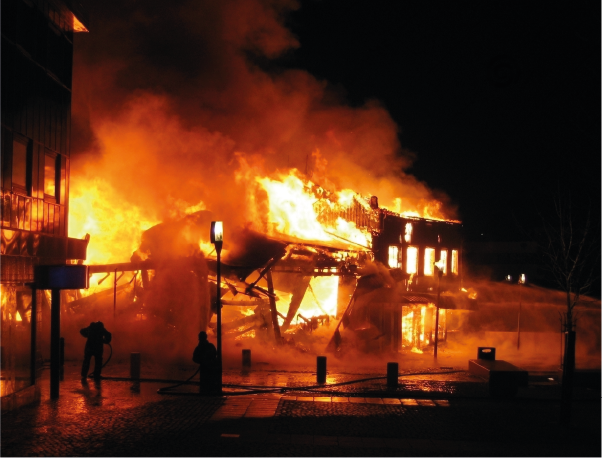 Last night frightened the neighbors when the largest antique shop in the city (you can learn more about it in this article) turned into a wall of flames, its neighbors claim that this is a very strange case.
"It was the weirdest thing I've ever seen. The store is across the street from my house, so I was the first to hear about it and call the fire department. I was watching TV when a green light came through the window, I got up to see what it was and there it was… the whole building was on fire! A fire, a light, as if it had become daylight. But I still don't understand how it could have happened so fast, I'm sure I had looked out the window shortly before and there was no fire." – Angela, a neighbor, states.
Firefighters battled the blaze all night, but in the end, the fire engulfed the entire building. Currently, the police are not only investigating the undetermined origin of the fire, but also the whereabouts of Mr. Morrison, the store's owner.
The second floor of the building housed the antique shop, while the first floor was taken up by Mr. Morrison's residence. As his body was not found among the remains of the building, a search party has started. Morrison had no other residence or relatives, and his acquaintances state that he had not left the city for the past 20 years, which his disappearance only adds to the mystery of this terrible incident.
The opinions of the neighbors regarding the loss of the antique dealer are divided:
"I already said it, that place was the devil's house. Once I went in and saw those papers with demon stars on them and I said: Wow, evil, evil. I had to go to church afterwards. I'm glad that place is gone." – Juana, another neighbor.
"Too bad about the antique shop, there was no other like it. This is where I got the best props for my horror films. No other is so specialized in this type of items." – Roberto, filmmaker.
At the moment, the most plausible hypothesis of the police is that it was an arson to cover up some evidence, and that possibly the thief was after one of the strange items acquired by the antique dealer, as we detailed in last week's article.